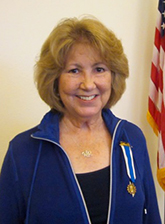 Welcome to the Conejo Valley Chapter of the Daughters of the American Revolution.

Our membership is dedicated to the promotion of the ideals of the DAR, which are patriotism, historic preservation, and education. We have our luncheon meetings on the first Monday of each month, from October through May, in Thousand Oaks. I invite you to explore our site and contact our ObscureMyEmail if you would like more information on membership. Thanks for visiting!

In DAR Service,
Sandra "Sandi" Selditz, Regent
The Daughters of the American Revolution (DAR) is a non-profit, non-political, volunteer service organization made up of approximately 170,000 members with 3,000 chapters. These chapters are located in all 50 states and in many countries around the world. On October 11, 1890, 18 women met to officially organize the NSDAR for historic, educational, and patriotic purposes. Since that day, over 800,000 members have been admitted into membership.
Mailing Address: 24574 Park Granada Calabasas, CA 91302-1409

Web hyperlinks to non-DAR sites are not the responsibility of the NSDAR, the state organizations, or individual DAR chapters.
Last Updated: Friday, February 09, 2018 22:44:03